News & Updates
News & Updates
DDA celebrates 45th anniversary of its establishment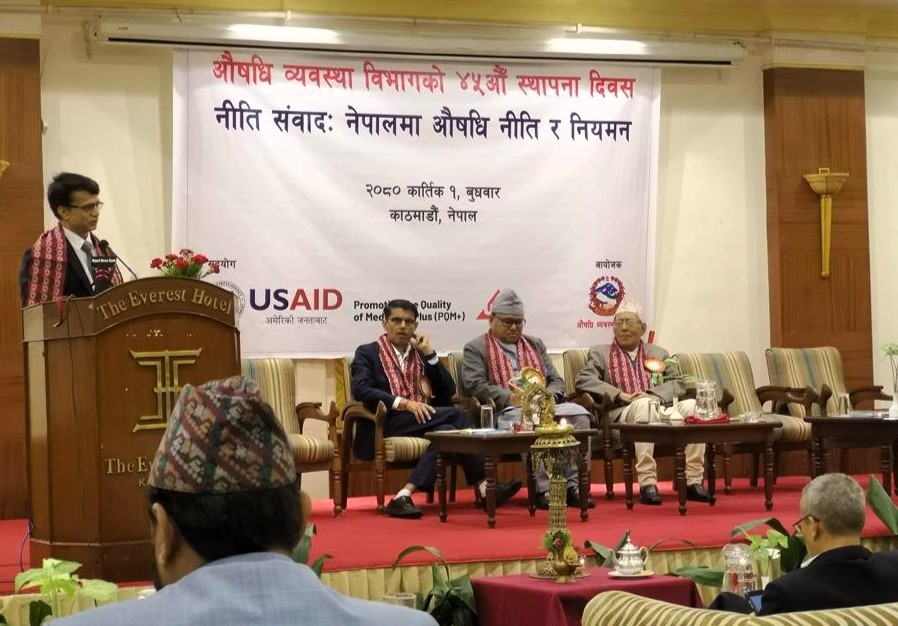 DDA celebrates 45th anniversary of its establishment
Kathmandu, October 19, 2023
With the noble objective of safeguarding the public's access to quality medicines, preventing the misuse or abuse of pharmaceutical products, controlling the dissemination of false or misleading information regarding the effectiveness and usage of drugs, and effectively supervising the entire spectrum of drug-related activities, including production, marketing, distribution, export, import, storage, and restricting utilization of medicines that do not meet safety, efficacy, and quality standards, the Department of Drug Administration (DDA) was formally instituted on Kartik 1st, 2036 B.S.
The department hosted a policy dialogue meeting titled "Pharmaceutical Policies and Regulation in Nepal", on the auspicious celebration of its 45th anniversary. The event featured Dr. Poshraj Pandey, Senior Economic Advisor for the Ministry of Finance and former member of National Planning Commission, as the key note speaker, while Mr. Ravi Kanta Mishra from the Ministry of Health and Population served as the moderator. Additionally, the panel included Professor Shiva Adhikari, Central Department of Economics, TU, Professor Dr. Panna Thapa, KU, Mr. Balkrishna Khakurel, former Director General, Mr. Prajwal Jung Pandey, Chairperson of the Nepal Pharmacy Council and Mr. Mehmood Anwar, Country Program Director of PQM+. These esteemed individuals shared their valuable insights on the policy and provided recommendations for enhancing the existing policy.
The program featured Dr. Dipendra Raman Singh, Additional Secretary from the Ministry of Health and Population, as the Chief Guest. Director General, Narayan Prasad Dhakal chaired the event, and it was attended by the guests namely Dr. Madan Kumar Upadhyaya, MoHP, former Director Generals, former NML directors, former staff members, as well as officials from both DDA and NML.
The recommendations of the plenary, as summarized by Director General, encompassed facilitation in regulation of HTP, upgrading existing maturity level, GPP/ GSDP implementation (Quality assurance in supply chain), PMS Strengthening, drug policy to be a part of health policy, NML accreditation and prequalification, distribution of medicines: credits, bonus system, partnership/collaboration between different stakeholders, interprofessional collaboration, sectorial harmonization, linkages between academia and industries for invention & innovation, national industries promotion, partnerships, harmonization and standardization following best practices, laws regarding geographical indications, updated IPR laws, updating the relevant acts, holistic approach to work on decreasing OPP, research & learning to ensure availability of molecules to achieve preparedness.
Following this, former DGs and former NML chiefs were felicitated for their contribution to the development of the Department. Additionally, the Galaxy Pharmacy, Kathmandu was recognized for its efforts towards compliance with Good Pharmacy Practice (GPP) standards. The program concluded with closing remarks from the senior drug administrator Mrs. Shiwani Khadgi.
The department would like to express sincere gratitude and heartfelt appreciation to the Ministry of Health and Population, as well as to all the distinguished individuals and dedicated staff who have tirelessly contributed to DDA's mission. We look forward to continued collaboration and support as we strive to achieve new milestones and uphold sterling regulatory practices in the days to come.
---
Citizen Charter
Visit our citizen charter section for information on basic rules & regulation to acquire our service.
View Citizen Charter
Any feedback?
Your feedback & suggestions are very important to us, Please send us your feedback!
Send Your Feedback